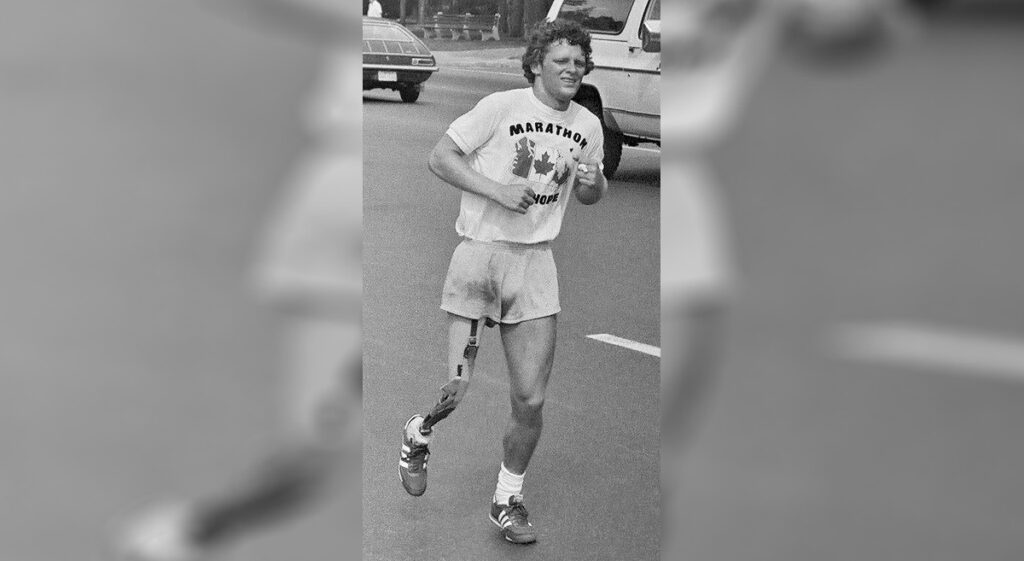 Terry Fox is a true Canadian hero that has come to symbolize hope and courage. While his accomplishments are too numerous to list, below is a brief history.
Terry Fox was born on July 28, 1958, in Winnipeg, Manitoba.
His right leg was amputated above the knee due to cancer.
Terry Fox's began his Marathon of Hope April 12th, 1980 raise $1 from every Canadian. He reached that goal and much more.
The Terry Fox Run would eventually raise more than $850 million since it's inception in 1980.
Terry ran close to 42 kilometers (26 miles) a day from 4:30 A.M. to as late as 7:00 P.M.
Terry ran regardless of the weather conditions often sleeping in his support van unable to afford lodging.
Terry is inducted into the Canadian Sports Hall of Fame - August 29, 1981.
British rock star Rod Stewart dedicated the song "Never Give Up on a Dream" from his 1981 album Tonight I'm Yours – to Fox.
Terry is the youngest person ever named a Companion of the Order of Canada.
Terry was named Canada's Newsmaker of the Year in both 1980 and 1981.
Terrys run ended due to cancer on September 1st 1980 outside Thunder Bay Ontario after running 5373 km
Pope John Paul II sent a telegram to let Terry know he was praying for Terry while receiving treatment for his second bought of cancer.
Terry died due to complication rising from osteogenic sarcoma June 28, 1981 at the age 22 in Royal Columbian Hospital in New Westminster.
His funeral was broadcasted on national television across Canada and a public memorial service was held on Parliament Hill in Ottawa.
Terry Fox's story continues to inspire people all around the world as the Marathon of Hope would become an international event taking place in over 60 countries. Over the years, to honour Terry Fox numerous monuments, roads and schools across Canada would be named after him. A list can be found here on Wikipedia.
To make a donation, click through to the Terry Fox foundation.