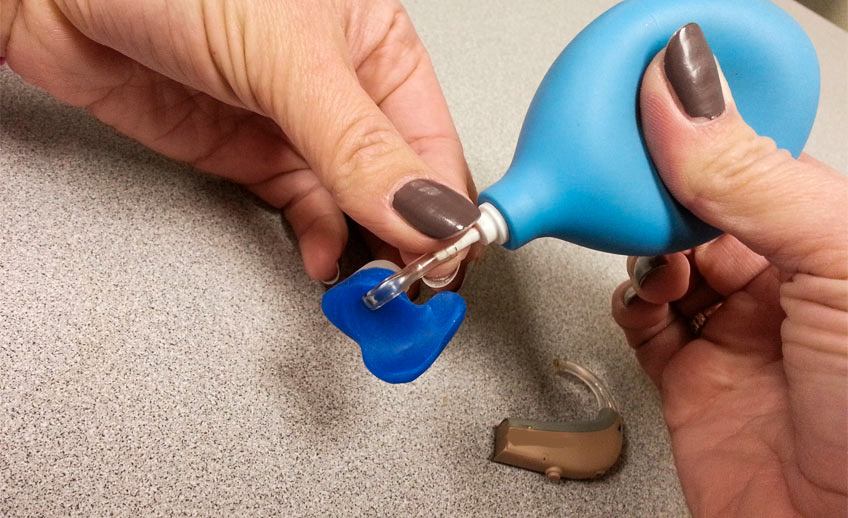 Minor hearing aid repairs, basic maintenance, and adjustments are free for as long as you own hearing aids purchased from the Polo Park Hearing Centre. Our policy is a Continuous Care Guarantee that protects them from ever having to go without hearing well again.
We estimate our Continuous Care Guarantee saves our average client $500 or more over their period of heraing aid ownership.
Manufacturers Warranty & Repairs
Most hearing aid manufacturers warranty their hearing aids for a period of three years or more. Typical warranties include all repairs including minor wear and tear on the hearing aid shell and electronics.
Hearing Aids Damaged Beyond Repair
Many manufacturers include a one time replacement policy for catastrophic damage including the user damaging the hearing aid. There is a deductible should you lose your hearing aid or the unlikely event that your hearing aid is damaged beyond repair.
Emergency repairs can always be fit into our schedule.
Repairs Beyond The Warranty Period
On average with average usage, hearing aids will last five to seven and possibly more years before they become either too expensive to repair or parts become difficult to find. From the end of the manufacturers warranty to the time a client upgrades their hearing aids, our Continuous Care Guarantee will cover minor in clinic repairs, all maintenance, and adjustments free of charge.
Water Damage & Hearing Aid Repairs
Unlike famous brand name cell phone manufacturers, hearing aid manufacturers know that moisture can be an issue despite being water resistant. The main problem that can arise is corrosion in the electronics. In these cases factories will replace parts for a low flat rate when outside of warranty. Once warranty on repairs is near completion, we often send hearing aids back to the factory for a full inspection and renewal of any parts that may be required. this will help extend the hearing aids useful life as much as possible giving you as much value as possible.
While moisture will not void the warranty in nearly all situations, we highly recommend keeping hearing aids dry and clean.
Hearing Aid Upgrades vs. Repairs
After 5 or more years, even state of the art hearing aids can become a bit dated. Hearing aid technology constantly improves sound quality and useful new features are always being added. Recent trends have included mental health and physical health tracking that would have been unheard of just 5 years earlier. Beyond the hearing aid industry, new consumer technology such as cell phones are constantly evolving and their integration with hearing aids offers helpful new features as well. All these factors combine to make for a compelling reason to upgrade right around the time hearing aids begin to reach their end of life.
Do Your Hearing Aids Require Maintenance?
Maintaining your hearing aids extends their useful life significantly. Feel free to call us to set and appointment for a quick maintenance and adjustment any time you feel your hearing aids could use a little TLC. To book an appointment, simply fill the form on this page or call us at (204) 788-1083. Thanks for reading!