Your hearing aids require delicate maintenance & care! Here's #HowTo properly clean your BTE earmold #hearingaid #hearingaidmaintenance

Posted by Starkey Canada on Wednesday, November 20, 2019
Maintaining your hearing aids through daily cleaning and regular service is important for a number of reasons. Proper care ensures top performance, ensures a long service life, and guarantees proper hygiene.
While hearing aids are a medical device built to last, the microphone and the receiver are a bit delicate.  Handling of your hearing aids with care while cleaning them will prevent accidental breakage or damage. If you are unsure of how to clean your hearing aid model,  please ask us to show you how to maintain them safely.  Here are a few tips to keep in mind when cleaning your hearing aids:
How Often to Clean Your Hearing Aids
Some cleaning tasks are needed daily while other can be performed once a week.
Daily Hearing Aid Cleaning
We recommend evening hearing aid cleaning, there may be a build up of wax and moisture in your hearing aid after a day of wear.  Removing the wax before if has a chance to get into the hearing aid is best practice.  
To clean the microphone cover use a soft brush to gently remove wax or debris.
Wipe the entire hearing aid with a soft cloth.
Opening the battery compartment at night will extend the life of the battery and allow the compartment dry from any moisture accumulate during the day.

Weekly Hearing Aid Cleaning
We recommend that once a week you perform a more through cleaning of your hearing aid.  
Use a wax pick to gently remove stubborn wax or debris deposits while being mindful not to push into the mic or receiver ports.
If you hearing aid has a wax guard check it and replace as necessary.
To remove 

stubborn wax build up in the hearing aid tip, you can gently massage the end between your thumb and finger and wipe away any debris.   These tips will need to be changed periodically and your hearing aid professional will be happy to assist with that.  

Changing the battery is a great time to brush the battery compartment clean.
Cleaning A RIC Hearing Aid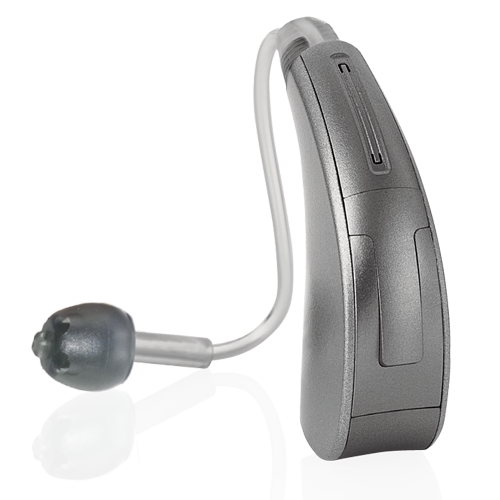 Our Continuous Care Guarantee
Our Continuous Care Service Guarantee ensures regular maintenance is free of charge. Feel free to stop in anytime during business hours for adjustments and maintenance.