Drag racing is loud and people love it. Over the long weekend two of us went up to the Interlake Dragway at Gimli Motorsport Park so see the races and take in the sights and sound. There's a lot to see and hear as you can get quite close to the cars to see them do their burn out and launch down the quarter mile.
How Loud?
Well, we recommend you bring earplugs to the drag races. Having showed up at the end of the morning runs the first cars we saw were some of the more heavily modified race cars. We were not at all prepared for the third race we saw as it turned out to be the loudest car there. Standing next to the fence only 10 -15 meters away from the right-hand lane we registered a whopping 124.6 dB. To put it in perspective, the street legal cars were 108 dB which is about a lower noise level rock concert. A chainsaw running full out is only 115-120 dB. It was a bit painful.
To put it simply it was the loudest thing myself or my buddy had ever heard.
To figure out how much louder the loudest car was we did some calculations and since the scale is logarithmic, the loudest race car had a perceived sound level 3x higher than the loudest streetcar your have heard.
Tip – If you want to avoid the noisiest areas, view from ahead of the start line. This way you are ahead of the cars when they do their burnouts and are also moving the slowest.
Variety of Vehicles
We were a bit surprised to find to that even snowmobiles can be drag raced. Along with a couple of motorcycles there were a huge range of cars and even a few trucks. In the video you will see everything imaginable including modified street cars, pro street style 60's era muscle cars along with late model cars. There were a few funny cars and classic dragster type cars running 6 second quarter miles. By the end of the afternoon, the only thing that didn't run a race were the golf carts.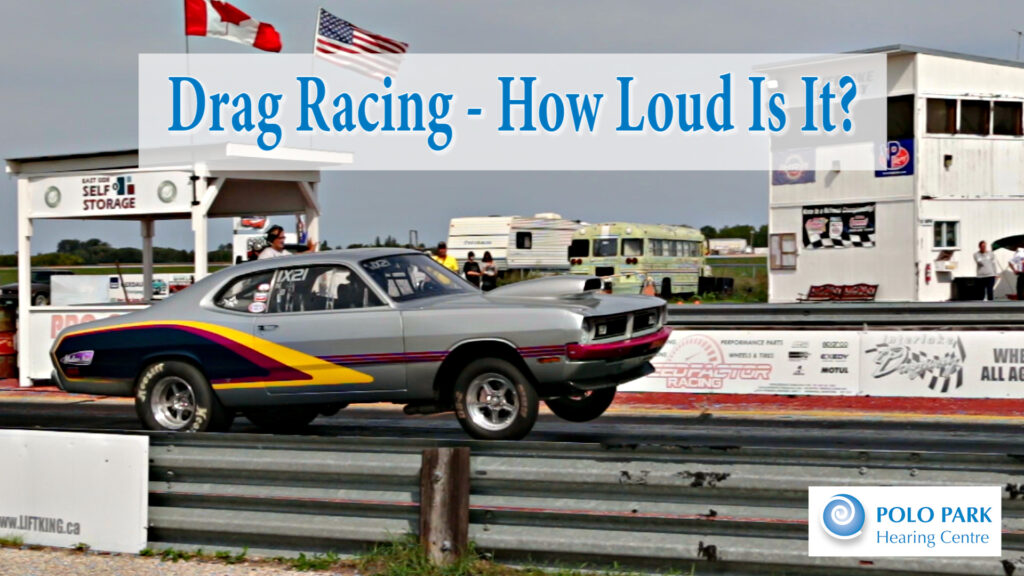 Another Surprise
Although we didn't talk to any racers, there were two that stood out the most. Two young children with the youngest being all of seven years of age. They had cute mini dragsters with a much smaller wheelbase and motor, but they looked like a lot of fun and ran over 70 miles an hour.
Spectator Reactions
Being curious I asked a few people what they thought about the races and sound levels. Everyone was positive, and the newbies were completely surprised by how incredibly loud it was. A couple of people using their fingers said earplugs would be a good idea had they known. One regular race fan had his grandson out for the day and commented that he insisted young lad wear over the ear protection. We thought that was great. Overall, we enjoyed the races and thought it was worth the drive from Winnipeg.
Tip: try this to see how a loud event affects your hearing. Set the car stereo so you can hear it easily. Then after the even, make note if the sound level sound the same or if you must turn it up to hear the same. While not exactly a scientific measurement, it is an easy way to gauge if you should bring earplugs next time.
Noise Filtering Ear Plugs
For the motorsport enthusiast, we offer custom ear plugs with noise filters of different levels of attenuation. The filters block unwanted high intensity noise while allowing the wearer to be able to hear speech easily. Also, being custom moulded to your ear's exact shape they offer all day comfort while staying in place perfectly. For more information
Final Thoughts
The sound of the cars burning out and launching down the quarter mile is a big part of the experience at the Interlake Dragway. At the same time, we strongly suggest bring a pair of earplugs for both hearing safety and convenience (you can't use your hands if your fingers are in your ears). If you have questions about noise exposure and how to protect your hearing, drop us a message through the form on this page or call us at (204) 788-1083. Thanks for reading!