While there are many ins and outs when it comes to self fitting hearing aids one of our concerns is what happens when the do-it-yourself option of self fitting hearing aids stop working? Who do you call for help and what kind of service to you get? We have had a few customers tell us their customer support experiences. While we do recognize that these are the people that did not get great service, it should be noted that the there are common elements that are typical of the bought it online or at the drugstore type experience.
Self fitting hearing aids are also known as over the counter hearing aids - OTC hearing aids. People buy them online.
30 Second Read
Tech Support and warranty are as valuable as the product. Even with a good brand the big problem is the wait time when having to ship the hearing aids away for repairs. For non-name brand products they are often sold by marketing companies that close down after selling their inventory to avoid costly warranty claims and support calls. At Polo Park Hearing we do the opposite. Call us to we start support right then and there, or we will call back. Next step is come down to our office, no appointment. If after that, we have to ship for repairs, we have hearing aids to take their place temporarily. Our guarantee is "You will never have to go without hearing well again."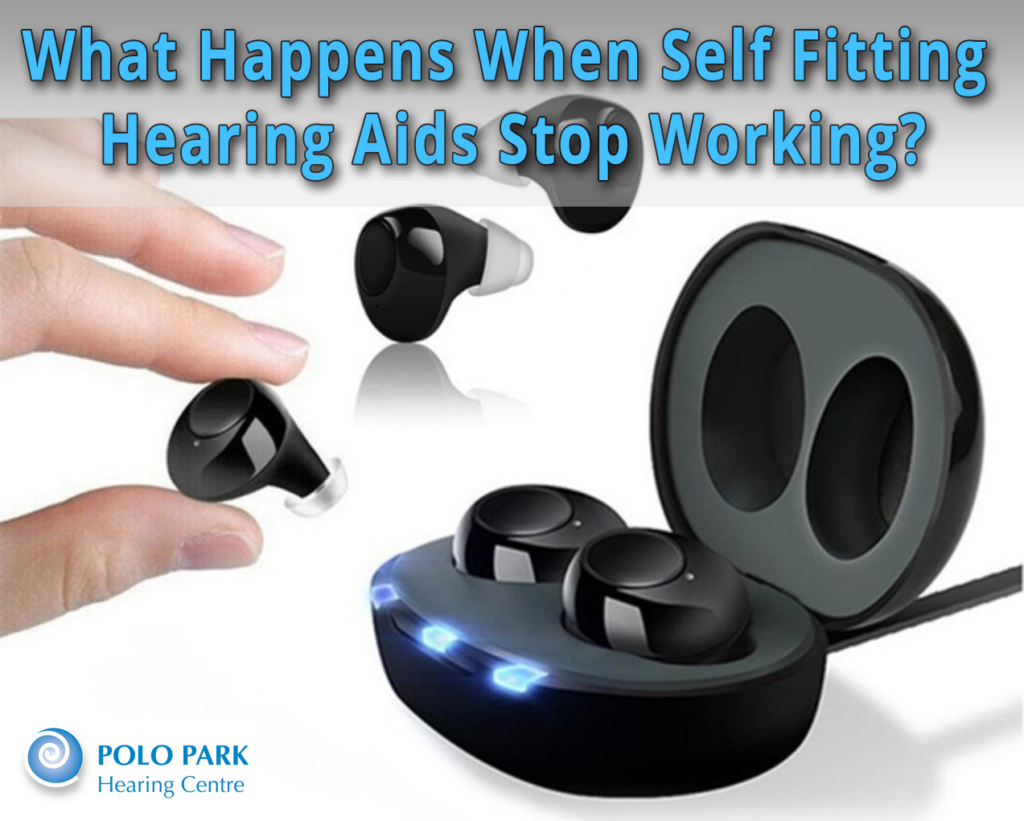 Initial Support When Your Hearing Aid Stops Working
Whether it is a store-bought hearing aid from full-service hearing aid shop like ours, or an online purchased self fitting hearing aid, the very first thing a client will do is pick up the phone and call for help. In our case we always have someone available during regular business hours Monday to Saturday. In the worst-case scenario they will take a message and a fully qualified staff member will call back shortly to begin troubleshooting over the phone. Alternatively, when it comes to self fitting hearing aids you have the choice of a website, email, and usually chat support or telephone support. Provided you do not have to wait in the queue to get through, they can provide basic product support only. Chances are they are not a BC-HIS (board-certified hearing instrument specialists) with 10 years plus training. The product trained person with limited knowledge in a call centre may also support other products and that is what is to be expected as this type of work is usually contracted out. That is provided the company is still operating (more on this later).
Secondary Supports – Telephone Call Didn't Resolve The Issue
Let us say telephone support failed to resolve the issue in both cases. For us here Polo Park hearing, we offer same day service. You either get in your vehicle or hop in a cab (currier the hearing aids too) to come down and see us at the Polo Park Mall where there is lots of parking. The mall has full wheelchair access and a convenient Starbucks on the way if you want a coffee.
With self fit hearing aids, you are going to have to mail them away. Typically, from what we know you will have to wait for them to be repaired or in a best-case scenario replaced which will usually take period of weeks depending on the point of origin of your hearing aids.
For us here Polo Park hearing we can perform most minor repairs on the spot in a matter of minutes and check the settings for you while you wait or do some shopping. If something does turn out to be more significantly damaged, then we can place a warranty claim for you and offer you a loaner pair of hearing aids so that you do not have to go without hearing for even a day. This service is covered under our continuous care guarantee and is available to all of our customers that purchase their hearing aids from us at the Polo Park Hearing Centre.
Leslie Holden had a thought that people should never have to go without hearing if they were customers of hers. She turned that thought into a promise with Polo Park hearing's Continuous Care Guarantee.
Repair Cost
We do not charge for minor wear and tear repairs for our clients . Most self fitting companies do and rightfully so as it takes time and money to make those little fixes, but we don't. Our view is that the hearing aids are more part of an ongoing service - keeping your hearing health performing at it is best so you can be your best. Our 3 year warranty coverage even covers water damage, while most reports we have had with self fitting hearing aids is that they come with a 90 day warranty.
Online retailers that are not big-name brands, are often what we call "throw away companies." They are setup as a brand to make a mass marketing sell off of a production run after which the company is collapsed intentionally so that the warranty claims do not have honoured. That is one way to pad the bottom line and not have to provide product support such as call centres for chat, email and telephone support. The companies we deal with are all in business decades and we avoid any with poor reputations for warranty claim denials. In fact, we will send in hearing aids prior to the end of warranty periods to have them checked over by the manufacturers as a way to extend their service life as long as possible.
Other Retailers
We get feedback on other retail operations and a lot of them are good. Some of them are particularly good while others who are little more discount in price and more big-box wholesale make you book an appointment to wait days, possibly even weeks when your hearing aids don't work. No one wants to go around hearing out of only one ear waiting for a repair that can be as simple as a five-minute fix. Again, that's why we created our service guarantee, so you never have to wait without hearing.
Before you buy, make sure to ask what the warranty and the repair turn around time is. Nobody likes surprises.
Are you Considering A Hearing Test?
Please feel free to call us at (204) 788-1083 send us a message through the form on this page to setup a time to come in for a hearing test. If you have questions about our Continuous Care Guarantee, click that link our give us a call. Thanks for reading!