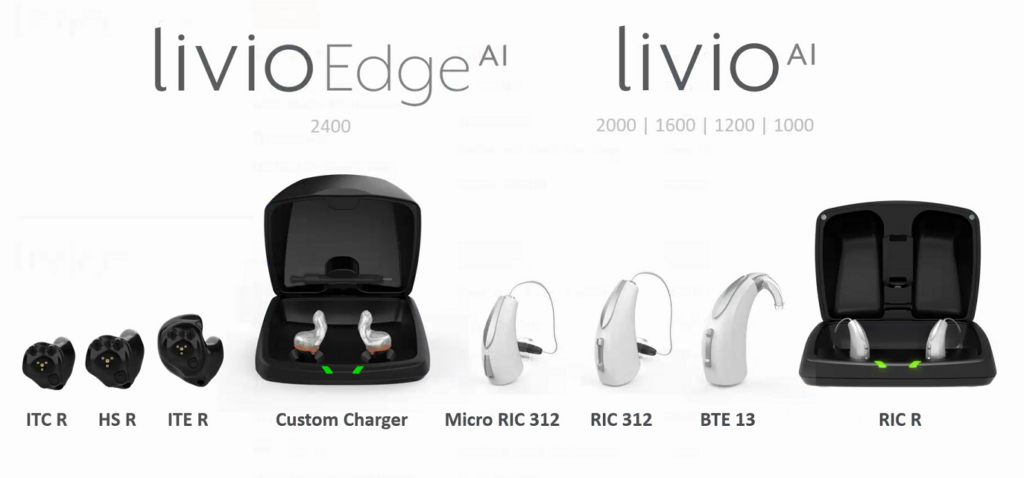 Starkey's rechargeable hearing aids come in a variety of hearing aid styles and technology levels that will meet all your needs and exceed your expectations. Combined with the Thrive smartphone app, these customizable hearing aids provide environmentally friendly rechargeable all day power and features that makes using the hearing aids effortless.
The LIVIO AI hearing aids are available in custom colours to suit your taste or more closely match hair colour.
The AI stand for artificial intelligence as these hearing aids use machine learning to adapt to your preferences and custom hearing environments.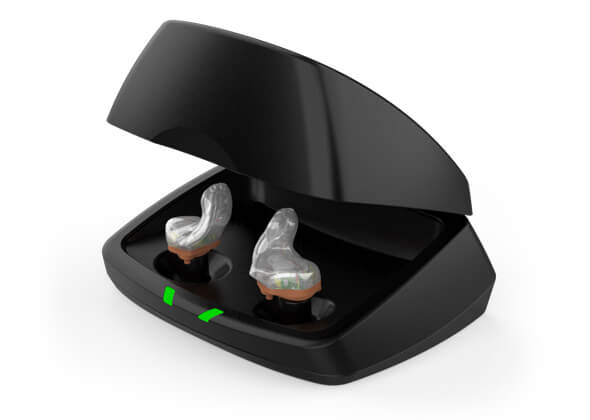 Power To Go
Pictured above, the Starkey hearing aid recharging case not only provides a safe place to charge your hearing aids when plugged in, the case itself recharges and can then charge the hearing aids without being plugged in. Perfect for overnight trips.
TIP: add a desiccant bag to the recharging case to keep the internals of your rechargeable hearing aids dry for best performance.
One great feature of the new chareging systme is that the locating of the electrical contacts is done via magnets. You simply pop the hearing aid into the cradle and it seats perfectly every time. this is great for people with reduced dexterity.
New charger provides up to 24 hours of power in a single charge.
Mini Charger
The mini charger is an even smaller option than the regular charger. It's small enough to fit in a pocket yet cna recharge a set of hearing aids in just 3 hours up to 4 times.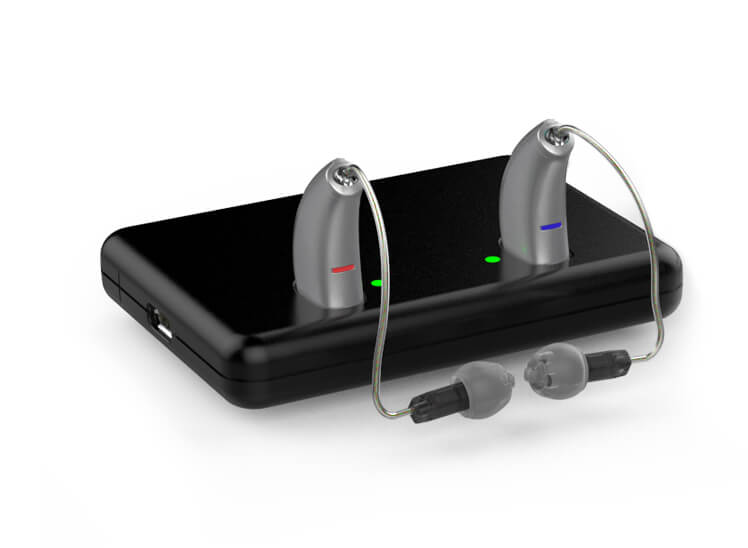 Key Features
The Starkey Livio AI & Livio Edge AI hearing aids unlock an amazing array of features that include mask mode, streaming for both iPhone and Android smartphone, and more through the Thrive app. The app can track health indicators such as physical activity, mental activity and social engagement, and has a unique fall detection system that can alert a loved one of the situation. A brochure of the Livio AI's features can be found on this page - hearing aid brochure.
Do You Have Questions About Rechargeable Hearing Aids?
We are always happy to answer questions about the hearing aids we fit our customer with. Please feel free to call us at (204) 788-1083 or contact us online.