When buying hearing aids, to get the best value for your dollar over time, we believe these are the three most important questions you need to ask the hearing aid centres you are shopping at. As always, buyer beware and know that you are not just buying a piece of hardware, you are buying the service to keeping that hardware running at 100% efficiency.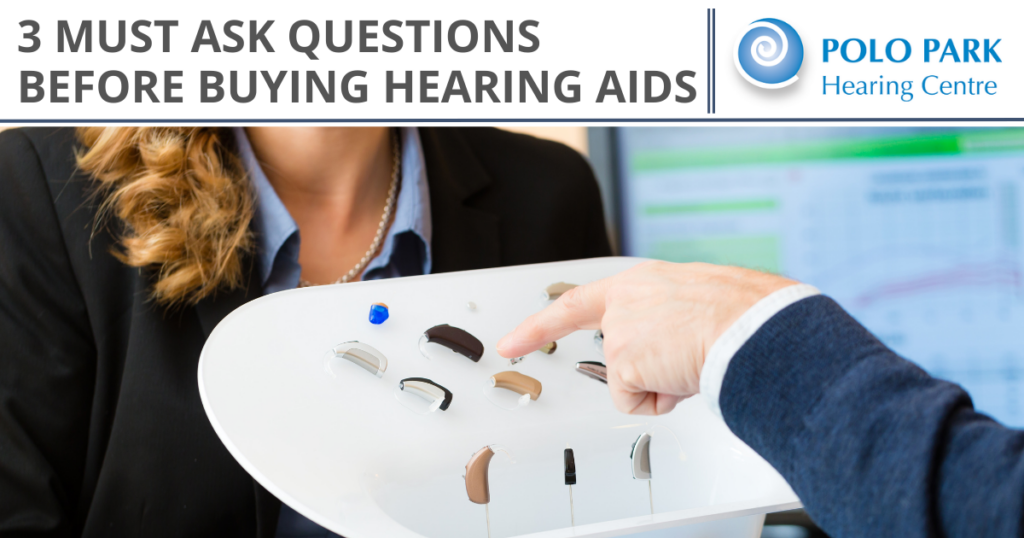 What is the total cost of ownership?
With the Polo Park Hearing Centre, the answer is easy – it's the purchase price plus the cost of your batteries if the unit doesn't have built-in rechargeable batteries. While "What is the cost of hearing aids?" is an obvious question, it may be part of the total cost you will incur over the life of your hearing aids from some vendors. Some will charge for programming adjustments, minor fixes, cleaning, and any significant repairs that are outside of warranty claims. It's important to ask exactly what is included in terms of service during the initial getting acclimate phase then during your warranty period and after as well.
See our Customer Care Guarantee for more information about how you can save.
How long does it take to get my hearing aids fixed if they get broken?
With the Polo Park Hearing Centre, the answer is again quite simple. Call in and we can troubleshoot over the phone. If needed, bring them in the same day or next, and we'll try our best to fix them while you wait. It's always best to make an appointment, but emergencies happen, and we accommodate as best we possibly can.
Does the hearing aid store offer loaner hearing aids while you wait for warranty repairs?
We are going to slip in two more important questions to ask of any hearing aid clinic. The first is: How long do you have to wait to get the appointment to see somebody in the first place? We have heard wait times of a few days to a few weeks. It's best to check on what the hearing aid clinic offers for service guarantees before you purchase.
At Polo Park Hearing Centre, there are no hidden fees.
The second question you need to ask is, how long is the turnaround time for repairs? Depending on the answer, good follow-up questions are: Will the minor hearing aid repairs be done in the clinic in a matter of a few days to a week for simple tasks?
What is the warranty on my hearing aids?
While most manufacturers will offer a 3-year warranty standard it is wise to make sure that is indeed what you are receiving.  As part of our Customer Care Guarantee, we send your hearing aids to the manufacturer for a thorough inspection prior to the end of your warranty free of charge. The factory will replace any component that is not 100% and send it back good as new. This way, you get the absolute maximum life (and value) out of your hearing aids. Often, our clients claim their hearing aids work and look brand new. 
We offer a free factory inspection before your hearing aid warranty ends to extend the service life of your hearing aids.
We Sell Value and Service
The Continuous Care Guarantee is the guarantee you our customer, will never have to go without hearing again. It is also a guarantee of timely service and represents great value that we know is unbeatable. You can always find someone to sell a product cheaper, but you will never get the service to match. When it comes to hearing aids, you rely on them daily to work and enjoy life, it's never worth missing out on life.  Please feel free to contact us by phone (204) 788-1083 or use the form on this page for more information.
Thanks for reading!