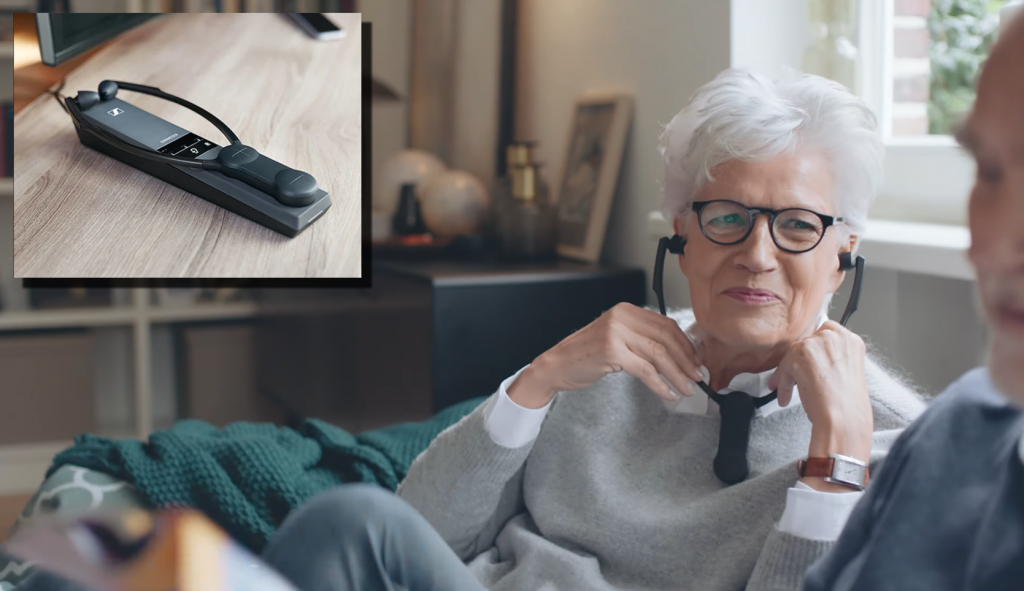 A Perfect TV Volume For Everyone
The situation is more common than your might think. Often there are two or more people watching TV and one person wants the volume just that little bit higher than the other(s) can stand to listen to. What happens next is usually either an uncomfortable listening experience, or worse yet, a tug-of-war over the volume control. There is an easy fix for the situation. Use an assistive listening device like the Sennheiser Set 860 seen above. Not only does it enable you to raise the volume to a perfect listening level without bothering anyone, it also allows you to tailor the audio signal itself to your personal needs.
Crisp And Clear TV Audio Make For Effortless Listening
With the Sennheiser Set 860 you have your TV sound directly at your ear with via the headphones with no distraction in the way. From Sennheiser's website: "Even more important: You are able to adjust your TV sound just the way you need it. You can choose between three different preset hearing profiles at the mere push of a button, optimizing speech or music to fit your hearing needs. You can shift the left/right volume balance to improve sound for a "weaker" ear. You can even switch from stereo to mono to get the full audio content in each ear. A unique treat is the Speech Intelligibility function, which reduces TV background noise while enhancing speech. You will see how much more fun it is watching TV when you can follow dialog effortlessly."
What's in the box?
Headphones with built-in Li-Polymer rechargeable battery
Docking station
1 pair of ear pads for small ears
Power supply with national adapters for EU, UK, US and AUS
TV Optical cable for digital audio out
TV Connection cable 3.5 mm for headphone audio out
Instruction manual
Questions?
To find out more about how the Sennheiser assistive listening set can help you hear what you have been missing, call us at (204) 788-1083 or contact us online.